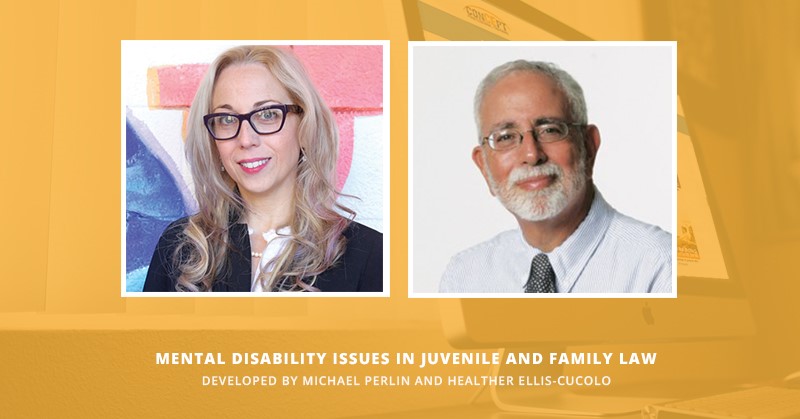 TAMPA, Fla. – Sept. 8, 2016 – CONCEPT Professional Training, a global leader in online professional training in forensic mental health, announced today that they are offering a 2016 Fall Training session called Mental Disability Issues in Juvenile and Family Law, presented by Professors Michael Perlin and Heather Ellis Cucolo. Concept's 2016 Fall Training Session will provide the opportunity to be trained by and receive consultation from the leading experts in the field. Sessions are guided online training programs that run for 10 weeks and are 30 hours long in length. This 30-hour training program includes weekly 1.5-hr live webinars with the instructors and supplemental readings from Professor Perlin's casebook over the course of 10 weeks, beginning on October 9th.
This training program is primarily intended for Clinicians and Forensic mental health professionals who may evaluate individuals and/or testify in custody, marital dissolution, adoption, foster care cases, child abuse or guardianship cases and the psychiatric commitment of juveniles, trials of juveniles in the criminal or quasi-criminal processes, the placement of juveniles in correctional institutions, questions of competency of juveniles to proceed, and questions of waiver to "adult court."
This guided online training will specifically cover:
* Why mental disability issues are so critical to mental health professionals, advocates, lawyers and mediators whose work touches on any aspect of the family law system
* Issues related to custody (including issues specifically related to children with special needs), adoption, marriage dissolution, foster care, and domestic abuse and guardianships as they relate to persons with mental disabilities, including the special issues related to the role and scope of expert testimony
* Issues related to juvenile commitments to psychiatric institutions, issues related to the criminal trials of juveniles with mental disabilities (including, but not limited to questions of competency and waiver), correctional facilities in which juveniles are housed, the role of problem-solving courts,  and the application of international human rights principles to this area of the law.
For more information on 2016 Fall Training workshops, visit the information page.
For more information on our instructors, visit Our Instructors page.
About CONCEPT Professional Training
Consolidated Continuing Education & Professional Training (CONCEPT) provides expert online professional training in areas relevant to criminal and civil forensic mental health assessment, corrections, law enforcement, and forensic intervention. Our goal is to provide premium professional training in an accessible online format. We believe in the value of world-class professional training, enhanced by continuing education and lifelong learning, in an online format accessible to all. CONCEPT is also approved by the American Psychological Association (CPA) to sponsor continuing education for psychologists CONCEPT maintains responsibility for its programs and their content.
www.concept-ce.com
concept.leadpages.co/fall-training-2016-overview/
www.facebook.com/conceptcontinuinged
www.twitter.com/CONCEPT_CE
www.plus.google.com/102382873840279758436
www.linkedin.com/company/concept-ce
www.pinterest.com/concept_ce
MEDIA CONTACT
Mariela Estrada
Social Media Marketing Manager
Email: mariela@concept-ce.com
Phone: (888) 709-4448