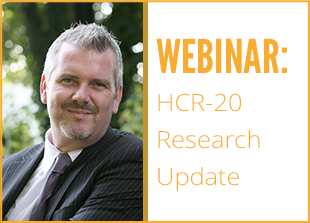 TAMPA, Fla. – April 27, 2016
PRESS CONTACT
Mariela Estrada
Email: mariela@concept-ce.com
Phone: (888) 709-4448
CONCEPT Professional Training, a global leader in online professional training in forensic mental health, announced today that it will host a 90 minute live webinar titled "HCR-20 Research Update", on Wednesday, May 25th from 1:00pm – 2:30pm EST. This webinar will offer expert advice from Dr. Kevin Douglas. Dr. Douglas is involved in research that addresses threat assessment, violence risk assessment and management, the association between various mental and personality disorders (i.e. psychosis; psychopathy) and violence, and dynamic (changeable, treatment-relevant) risk factors. This Live webinar is intended for criminal justice, mental health, or victim support professionals interested in learning more about the HCR-20 Version 3 or those who are considering implementing the HCR-20-V3 into clinical practice.
"The HCR-20 is one of the most frequently used violence risk assessment and management instruments worldwide," explains Dr. Douglas. "In this webinar, we will provide a brief synthesis of all HCR-20 research, and then focus on an up-to-date review of research on the HCR-20 V3."
This informative webinar will specifically cover:
* Synthesis of all HCR-20 research
* An up-to-date research of the HCR-20-V3 and the selected studies
* The opportunity to ask Dr. Douglas any questions
For more information on the HCR Research Update, visit here.
For a full list of all the Wednesday Webinars, visit the information page.
About CONCEPT
Consolidated Continuing Education & Professional Training (CONCEPT) provides expert online professional training in areas relevant to criminal and civil forensic mental health assessment, corrections, law enforcement, and forensic intervention. Our goal is to provide premium professional training in an accessible online format. We believe in the value of world-class professional training, enhanced by continuing education and lifelong learning, in an online format accessible to all.
www.concept-ce.com
www.concept-ce.com/wednesday-webinar-2016
www.facebook.com/conceptcontinuinged
www.twitter.com/CONCEPT_CE
www.plus.google.com/102382873840279758436
www.linkedin.com/company/concept-ce
www.pinterest.com/concept_ce