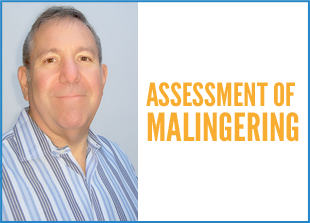 TAMPA, Fla. – Sept. 12, 2016 -PRESS CONTACT
Mariela Estrada
Email: mariela@concept-ce.com
Phone: (888) 709-4448
CONCEPT Professional Training, a global leader in online professional training in forensic mental health, announced today that it has launched a new professional online training program on Assessment of Malingering, developed by Dr. Barry Rosenfeld. This training program reviews the tests and techniques currently available for assessing malingering of cognitive impairment and psychiatric disturbance. Among the tests reviewed in this workshop are the measures such as the Test of Memory Malingering (TOMM), Validity Indicator Profile (VIP), MMPI-2, Structured Interview of Reported Symptoms (SIRS) and the Miller Forensic Assessment of Symptoms Test (M-FAST.
This training program is relevant for professionals who want to obtain or strengthen skills in forensic evaluation, including those involved in civil and criminal forensic mental health assessment, forensic inpatient and community settings, and those who work at the intersection of clinical psychology and law.
"In addition to discussing the use and interpretation of individual test this workshop will address the integration of multiple instruments into an assessment battery and decision-making in equivocal cases or when test data appear contradictory," explains Dr. Rosenfeld. "The use and misuse of malingering tests with linguistic and culturally diverse evaluatees will also be discussed."
This professional online training program will specifically cover:
* The differences between feigning, malingering, and insufficient effort in the context of psychological assessment
* The types of instruments used to detect feigning and the strengths and limitations for commonly used instruments
* The different indices of classification accuracy and their implications for the interpretation of test scores
* The importance of base rate information and standard errors on the interpretation of psychological test results
* Alternative decision-making strategies for selecting and integrating multiple tests into an assessment battery
* The impact of different types of diversity, including (but not limited to culture, language, and intelligence) on the interpretation of test data
* Applying ethical standards to their assessment practice when administering, interpreting and communicating test results
For more information on Assessment of Malingering, visit here.
For a full list of all Professional Online and In-Person Training Programs, visit the information page.
About CONCEPT
Consolidated Continuing Education & Professional Training (CONCEPT) provides expert online professional training in areas relevant to criminal and civil forensic mental health assessment, corrections, law enforcement, and forensic intervention. Our goal is to provide premium professional training in an accessible online format. We believe in the value of world-class professional training, enhanced by continuing education and lifelong learning, in an online format accessible to all.
www.concept-ce.com
concept.leadpages.co/master-programs-page/
www.facebook.com/conceptcontinuinged
www.twitter.com/CONCEPT_CE
www.plus.google.com/102382873840279758436
www.linkedin.com/company/concept-ce
www.pinterest.com/concept_ce